CONTROL ID: 2600278
CONTACT: Stefan Vandeweghe
Abstract Details
CURRENT CATEGORY: Clinical
PRESENTATION TYPE: Oral
Abstract

TITLE:
All-on-4 in the edentulous mandible: a tilted implant with angulated connection versus conventional implant with angulated abutment
AUTHORS: Vandeweghe, Stefan; Van Weehaeghe, Manu; De Bruyn, Hugo
ABSTRACT BODY:
Introduction: Tilted implants and angulated abutments complicate the restorative procedure. To overcome these problems, one could use a tilted implant with an angulated connection. The aim of this study was to compare the outcome of conventional versus angulated implants and abutment versus implant level restorations.
Method:
20 patients were treated in the edentulous mandible. Posterior, one conventional tilted implant with angulated abutment and one angulated implant (Co-Axis,Southern Implants,Irene,South Africa) without abutment were placed. In the anterior, 2 conventional implants were placed, one with and one without abutment. Implants were immediately loaded and after 3 months, the final bridge (PFM or full-zirconia) was placed. Bone loss, periodontal indices, patient satisfaction and complications were evaluated.
Results:
After a mean follow-up of 48 months (SD 4, range 43-56), 17 patients (8 male, 9 female) were available for clinical examination.The mean age was 65 years (SD 8, range 50-84). 8 patients received a full-zirconia bridge (BruxZir), 8 a PFM bridge and 1 patient still had a provisional bridge.
The overall bone loss was 1.26 mm (SD 0.64, range 0.29 – 2.68).There was no significant difference between implants restored on abutment or implant level (p=0.687), between the posterior angulated implant and angulated abutment (p=0.278) and between both anterior implants with or without abutment (p=0.463). The posterior implants demonstrated less bone loss compared to the anterior implants (p<0.001). There was no significant difference in bone loss between the implants restored with the zirconia or PFM bridges (p=0.294). The mean pocket depth was 2.83 mm (SD 0.51, range 2.19 – 3.94). More plaque was found in the PFM group compared to the full-zirconia group, at the bridge (p=0.042) as well as at the implants (p=0.029).
One zirconia bridge fractured, 2 angulated abutments were replaced and 4 loose bridge screws connected to the angulated abutments had to be re-tightened . Patients were overall satisfied with a mean OHIP-14 satisfaction rate of 4.74/5.
Conclusion:
Avoiding angulated abutments by means of an implant with angulated connection may results in a stronger connection but does not affect the bone loss. No difference in bone loss was found between implants restored on abutment or implant level. Zirconia seems to reduce the amount of residual plaque.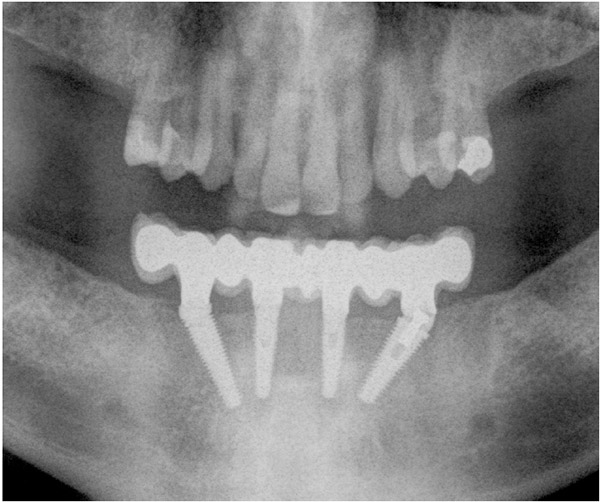 #SouthernImplantsAbstracts #SouthernImplantsCitings #DentalImplant #SouthernImplants