CONTROL ID: 2592765
CONTACT: Chris Butterworth
Abstract Details
CURRENT CATEGORY: Clinical
PRESENTATION TYPE: Oral
Abstract
TITLE:
Primary vs Secondary Zygomatic Implant Placement In Head And Neck Cancer Patients – A 10 Year Prospective Study
AUTHORS:
Butterworth, Chris
ABSTRACT BODY:
Introduction:
Zygomatic Implants provide excellent remote anchorage opportunities to support dental & facial prostheses in head & neck oncology patients following maxillary & mid-face resection and can be placed at primary surgery or a later date
Method:
The primary aim of this prosepctive study was to examine the survival of zygomatic (and modified zygomatic implants) used in the management of consecutive patients with maxillary & mid-face malignant disease in a high volume head & neck cancer centre. The secondary aim was to examine whether the placement of zygomatic implants at the time of primary cancer surgery carried any advantage in terms of implant survival and utlisation compared to placement at a secondary time-point following successful oncology treatment.
Results:
53 patients received 140 zygomatic implants as part of their rehabilitative treatment for maxillary/ mid-facial disease.
4 patients died prior to restoration and their 9 implants were excluded from the analysis, leaving a study population of 49 patients with 131 zygomatic implants. 27 patients received primary placed implants at the time of tumour resection whereas 22 patients were treated secondarily.
The primary and secondary groups were fairly evenly matched in terms of gender, age with smoking (see table). The secondary group was disadvantaged in terms of radiotherapy with 36% of patients having been irradiated prior to surgery. 9 implants were removed from 4 patients, 5 within 3 months of placement, 2 within one year and 1 after 3 years of function. Primary placement cases demonstrated improved survival (96% v 89%) although this was not statistically significant at the implant (Fishers exact test p=0.17) or patient level (Fishers exact test p=0.31).
All surviving implants were utilised and the overall prosthetic follow-up of our cohort was 24 + 20 months with the longest follow-up being 70 months. A small number of additional dental implants were used in each group demonstrating the reliance we now place on zygomatic implants with their excellent primary stability and robustness, even in high-risk situations.
Conclusion:
The use of zygomatic implants in the management of oro-facial malignancy is a predictable prosthetic treatment modality to support complex oral and facial prostheses. The installation of implants at the time of primary tumour resection is advantageous and can result in high implant survival and useability.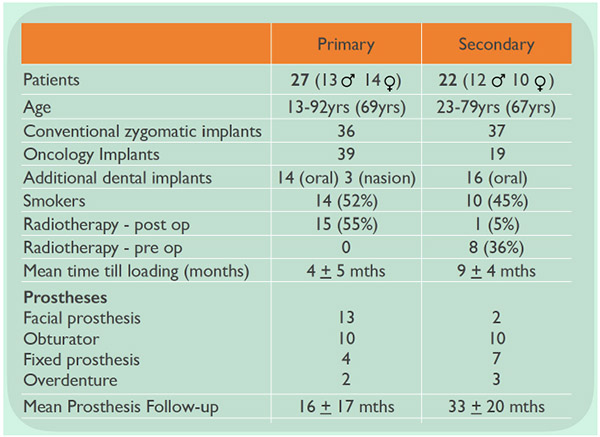 #SouthernImplantsAbstracts #SouthernImplantsCitings #DentalImplant #SouthernImplants