"Using Site Specific Implants – Anterior / Posterior zone"
September 23 – Hotel Grande Bretagne, Athens
It's our great pleasure and responsibility to invite you to attend the works of the 2nd Leading Implantology to the Top Congress "Using Site Specific implants – Anterior / Posterior zone.
The organization of this congress is a challenge to meet the expectations of all colleagues after last year's successful congress. The subjects covered by the congress are broad but revelant to the field of Implantology.
Our distinguished guest speakers are willing to share their knowledge and clinical experience by thorough lectures.
Lecturers:
Dr Costa Nicolopoulos
Dr Petros Yuvanoglu
Dr Kostas Papaioannou
Dr Dimitris Tasakos
Dr Christos Markopoulos
Dr Nikos krompas
Downloads: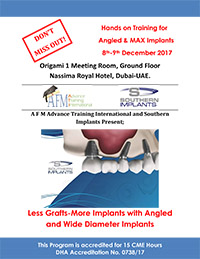 Brochure of The Implantology programon 8th and 9th December 2017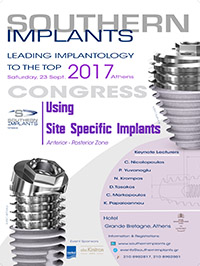 Poster
Not all products available in all markets.
#DentalImplants #DentalEducation #SouthernImplantsEducation #DentalIndustry #SouthernImplants #SouthernImplantsGreece #Periodontists