Management of Failed Implant Cases
Webinar by Dr. Costa Nicolopoulos
June 7, 2017
Time 21h00 EEST

Reported dental implant success rates are high resulting in an ever-increasing number of patients being treated with implants. Nevertheless implant failures due to peri-implantitis and bone loss do occur. The most predictable management of these cases appears to be implant removal and replacement. The aim of this lecture is to describe an atraumatic method and treatment modality in dealing with these dental implant cases.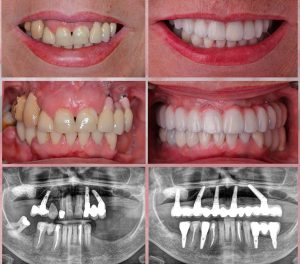 Over time the percentage of dental implants that fail increases because of biological and technical issues. Inevitably clinicians will have to dedicate more time to dealing with ailing and failing dental implants.
The clinical presentation of ailing and failing implants is peri-implantitis. This is an inflammatory diseases of bacterial origin with bone loss. The prevalence of peri-implantitis varies between studies from 6 % to 36%.
The decision to treat or remove (explant) a failing implant is a judgement that needs to be made by the treating clinician and needs to be based both on clinical and radiographic evaluation.
Dental implant removal may be indicated in cases of advanced bone loss around implants.
If a non-mobile infected implant is deemed hopeless and needs to be explanted usually it no longer needs to be removed by the traditional destructive "trephine" technique.
Implant removal devices are now available that facilitate removal of failed implants with a predictable technique that permits conservative implant extraction and the same time preserving most of the viable soft and hard tissue.
This clinical protocol aims to:
Explant the infected implant.
Decrease the bacterial load by curettage and decontamination of the implant socket.
Maintain the regenerative capacity of the surrounding alveolar walls.
Achieve primary stability for the immediate replacement implant either in the same or adjacent site.
Immediately load the replacement implants.
Upon completion of this presentation participants should be able to:
Identify failed implants requiring removal & replacement.
Identify an atraumatic method of removing failed implants.
Become familiar with the concept of immediate replacement of failed implants in the same or adjacent site
Become familiar with the protocol of immediate loading replaced implants.
Identify cases where immediate replacement is not possible and a delayed protocol is indicated.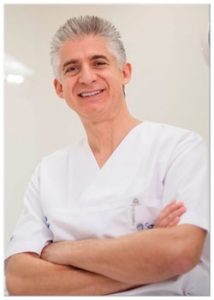 Dr. COSTA NICOLOPOULOS
BDS cum laude, FFD (SA) MFOS
Oral & maxillofacial surgeon
Dr Costa Nicolopoulos qualified as a dentist in 1984 receiving his dental degree cum laude from the University of Witwatersrand, Johannesburg, South Africa. He received numerous awards including the Gold Medal of the Dental Association of South Africa for the most outstanding graduate. In 1990 he completed his four-year full time postgraduate Maxillofacial and Oral Surgery training at the University of the Witwatersrand and was awarded FFD (SA) MFOS. Since 1991 he has been practising as a full time Maxillofacial and Oral surgery specialist concentrating on immediate loading of dental implants in his private clinic. He is the co-founder of SameDay Dental Implants Clinic, Dubai, and the director of the Branemark Osseointegration Center – Dubai.