Including angulated & wide bodied implant supported restorations

Venue:
P-I Brånemark Institute, Block C, Rochesterplace, 173 Rivonia Rd, Sandton
Course Objective
One of the significant advantages in implant dentistry includes the use of angulated implants to overcome the constraints of the craniofacial skeleton to avoid breaching the maxillary sinus and mandibular neurovascular bundle as well as minor bony anatomical deficiencies. The use of these implants has significantly reduced the need for bone grafting in all areas of the jaw as well as significantly reducing treatment time and cost.
Presented by
Prof. Dale Howes, Prosthodontist in Private practice
Dr. Greg Boyes-Varley, Maxillo-Facial and Oral Surgeon in Private Practice
Dr. Andrew Ackermann, Prosthodontist in Private practice
Who Should Attend
This course is offered for practitioners with some experience in implantology who are looking for further understanding and train in osseointegration and more advanced implantology with and without augmentation procedures.
Review of osseointegration
Anatomic constraint of the jaws
Cone beam computerised tomography and virtual planning
Principles of implant surgery
Applications of angulated implantology
Live placement of a single implant
Principles of bone grafts
Principles of "All On 4" with co-axis implants
Hands-on model surgery of various co-axis applications
Dealing with the posterior maxilla Prosthodontic implications of implant supported prostheses including:
Screw versus cement retention
The importance of passivity
Restorative materials
Laboratory procedures
Live placement of immediately loaded prostheses and occlusal equilibration
Closure of access holes
Medication and protocols for painfree implantology
Surgical and restorative complications
Wide bodied implant (MAX) module
Introduction to the MAX implant
Achieving predictable implant placement in molar extraction sites using MAX fixtures
Using the MAX implant as a viable alternative to grafting
Live Demonstration surgery – MAX implant
What some of our delegates say:
• "Fantastic course" • "Well thought of topics. Informative." • "Love the enthusiasm of the Pibisa team."
• "Job well done!" • "Definitely recommended. Very insightful."
2 easy ways to register for these courses:
E-mail: michelle.p@southernimplants.com
Contact: Michelle on +27 12 667 1046
DOWNLOAD THE FLYER – Click Here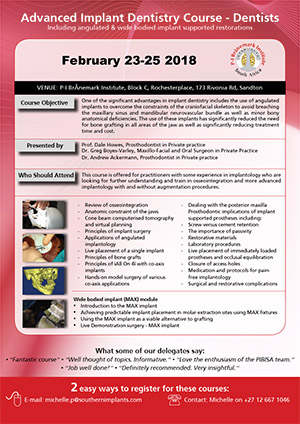 Southern Implants is a leading provider of unique and innovative Dental implant products with a focus on the top-end professional users who want more choices. Southern's expertise in research, development and manufacturing of dental implants allows us to provide Innovative treatment solutions that will reduce treatment times and improve patient outcomes.
The company was established in 1987 and is headquartered in South Africa. Our global network of professional representatives are dedicated and committed to provide high level technical support. We aim compliment the clinicians ability to deliver exemplified standards of care to their patients and referral base.
#DentalImplants #DentalEducation #SouthernImplantsEducation #DentalIndustry #SouthernImplants #Periodontists #CoAxis #DeepConicalImplants #PredictableAnteriorAesthetics